Applications
INNOVA heavy duty glassware washer is mainly used in the pharmaceuticals industry and food enterprises, to automatic cleaning, disinfection and drying various large glassware, components in filling line, components in tablet press, stainless steel filter shells, mixing barrels, bioreactors, PP barrels, connecting hoses, various connecting pipe fittings, etc. It can also be used for automatic cleaning of animal cages, drinking bottles, feed boxes and other equipment in experimental animal breeding.
Working Process
Example of basic cleaning process: manual loading--> program start--> pre-washing--> cleaning agent cleaning--> rinsing--> neutralizing agent cleaning--> injection water rinsing--> hot air drying--> cooling--> manual unloading;
Cleaning System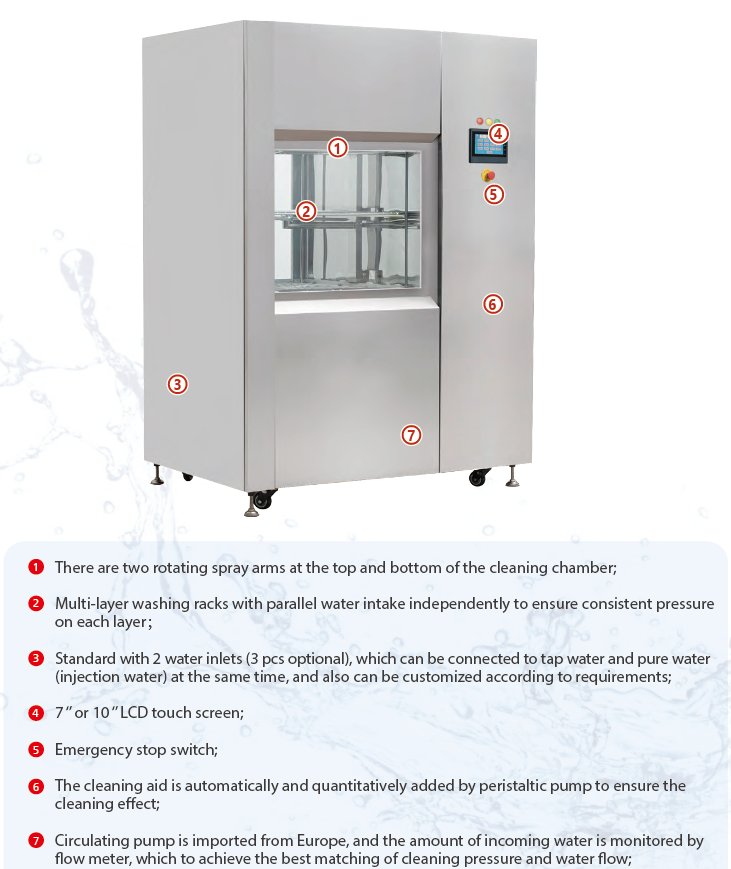 Drying system
It consists of circulating fan, sanitary air heater and high efficiency air filter;
When drying, hot air pass through the nozzles of the spray arms at the top and bottom of cleaning chamber, and the nozzles of cleaning rack quickly dries inner and outer surfaces of items with hot air;
Adopt HEPA high-efficiency filter to ensure the cleanliness of dry air and avoid secondary pollution of clean items by air;
After drying, utensils can be quickly cooled to ensure that users can safely remove the utensils for use.
Structural design
The cleaning chamber is made of 316L stainless steel, and the internal rounded structure has no dead corners for cleaning;
All circulating pipelines and parts in contact with cleaning water are made of stainless steel and PTFE;
The top of cleaning chamber can be equipped with internal lighting for easy visual inspection of cleaning conditions;
Adopt hollow double-layer tempered glass door, which is heat-insulating and noise-reducing. Automatic lift door design is easy to operate. Moreover, the front and rear double door structure and manual opening structure also can be customized according to specific users needs;
After the door is closed, the silicone rubber is automatically pressed by the independent stamping technology to ensure the airtightness and watertightness of the door body seal;
Optional transfer cart for easy access to cleaning racks.
Control System
Siemens or equivalent quality PLC programmable control system, 7''/10'' LCD touch screen;
Equipped with 10 standard programs and 10 free programs, which can set various name modes such as Chinese, English, numbers, etc;
With self-checking function of main components, which can realize the start and stop of individual components and check working status;
Control system can prevent dust and moisture from entering, and control panel height conforms to human height for easy operation;
With power-off memory function. If the power is temporarily cut off during the execution of the program, after the power is supplied again, the device can continue to work in the state of the program before the power-off.
Safety protection
The equipment is equipped with an emergency stop switch, in case of emergency, the power supply can be cut off immediately to stop running;
The equipment has the function of real-time monitoring of water leakage and multi-layer filtering device;
Automatic induction device for lift door operation, which can stop the movement immediately when there is an abnormality, so as to prevent accidents such as hand clamping, collision, extrusion caused by cleaning rack not in place or misoperation;
The door cannot be opened while the device is running. It can only be opened after the whole process is over and the utensils has cooled down;
The strong current distribution box and the weak current distribution box are respectively set up, which isolated from each other and with locks. The strong current distribution box is provided with a plurality of lockable transfer switches, which can be opened and closed independently to control the power on and off of each component circuit;
Alarm function: circulating pump overheated, water heating abnormal, air heating abnormal, short of cleaning agent, water intake abnormal, and water overflow alarm, etc.
Audit trail
Three-level password authority management, which include super user authority, to realize adding other account names and passwords, and can set two permissions of "operator" and "administrator";
More than 2000 cleaning records and over 2000 alarm records can be stored, which can be searched and viewed on the screen;
Cleaning records and alarm information can be exported to U disk in PDF format; A printer can also be installed to print all related records in real time;
Cleaning record content: including equipment number, equipment name, equipment model, program name, operator, start time, end time, cleaning steps (time, temperature, cleaning agent), fault name, etc.;
Traceability: all the information of equipment operation and parameter changes will be automatically recorded and stored by the system.